In Memory
Jim Paquin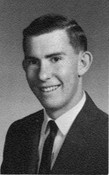 Dr. James Keith "Jim" Paquin, 62, passed away on Thursday, March 25, 2010 at home after a valiant battle with cancer. He was born in Phoenix, Arizona.
Jim attended Camelback High School, after graduating he enlisted in the Navy and became a hospital corpsman during the Vietnam War. He later went on to graduate from ASU and then graduated from medical school at the University of Guadalajara, Facility of Medicine in 1977. This was followed by an internship at the Universities of Arizona Health Sciences Center in Tucson, From there Jim completed his otolaryngolgology residency at the University of Arizona in 1982.
Jim was an avid hunter and master scuba diver. He also loved cooking, wood working, snow skiing, flying , and traveling but most of all, loved the practice of medicine and helping patients from all walks of life . Jim loved his community and was the recipient is many awards and served on a multitude of boards. He was the 2009 recipient of YRMC's Chief of Staff Diamond Award for personal and profession excellence. He also was the 2009 recipient of the Judge's Choice Award for the YRMC/AWC Dr. vs. Dr. Cook Off and the 2006 receipt of Yuma's Citizen of the year Award. Jim served as a member and Chairman of YRMC's Hospital Board of Directors from 2000 to 2008, he served on the Administrative Affairs Committee Quality Assessment and Credentials Committee. Jim also served as the Vice Chief and Chief of YRMC's Medical Staff. Jim was a founder of YRMC's Children's Rehabilitative Services and co-founder of it's Cleft Palate Team. He also served on Yuma County's Health Board, Yuma City Planning and Zoning Commission, Airport Authority Board, Hospice of Yuma Board, Yuma County Medical Society was a member of Riverfront Historical Society, a member of AWC's Foundation and a member of Range Riders.
Jim is survived by his loving wife Jill Caporelli-Paquin; daughters, Marcela Mendenhall, MD (Matt, MD), Deanna Birky (Scott), grandsons, Ryan and Travis Dague, mother, Alja Kelterborn; brother Michael Paquin (Carol) and beloved canine companions Toby, Brooke, Freckles and Coco. Jim was preceded in death by his father, John Paquin.
In lieu of flowers, memorial donations may be made to Hospice of Yuma or the Foundation of YRMC-James K. Paquin, MD Nursing Scholarship or the Yuma Humane Society.