In Memory
Ed Pinaire III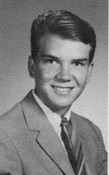 Edward H. Pinaire, 19
Auto Accident Victim
Private services for Edward Hoyt Pinaire III, 19, will be held Monday, Nov. 21, 1966, A. L. Moore and Sons Mortuary announced. Entombment will be in Greenwood Mausoleum.
Edward, a sophomore in the college of architecture at Arizona State University, was killed in an auto crash Thursday on Curry Road near the Arizona State Sanatorium, Tempe.
He was an Eagle Scott and member of the Sunnyslope Chapter of De Molay. Born in Phoenix, his home was at 1523 E. Missouri.
Survivors include his parents, Mr. and Mrs. Hoyt Pinaire of Phoenix; and grandparents, Mr. and Mrs. Edward Pinaire of California and Mr. and Mrs. Leslie C. Smith of Phoenix.
The family suggests contributionsto the Florence Crittenton Home in Phoenix.
Published in The Arizona Republic 19 Nov. 1966