In Memory
Brooks Thomas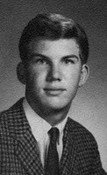 Brooks Dudley Thomas was born on July 29, 1947 to Margaret Hay Dudley Thomas and Jared Evans Thomas in Pottstown, PA. He passed away on August 5, 1984 in Nova Park, CA.
Brooks moved to Phoenix, AZ, in 1955 when his family moved here. He attended Lafayette Elementary School, and graduated from Camelback High School and Phoenix College. At Phoenix college he was a member of the Gamma Rho Fraternity and the Inter-Fraternity Council.
Brooks moved to California where he was a marketing representative for Hills Brothers Chemical. It was on a sales visit to a job site that Brooks was injured. He saw a runaway dump truck and, caring about others as he did, jumped into it to try and stop it from hurting anyone. He was not able to stop the truck, but was able to change the truck's course away from people. Brooks jumped out and landed on the ground, breaking his neck. He was paralyzed from the neck down. He was eager to start therapy to try and recover some use of his upper body. He had been fitted with his halo and was set up in a chair when a blood clot lurking in his body broke loose and killed him.
Brooks was survived by his second wife Jane and her two daughters, Karalyn and Elizabeth Lucci, of California. He is also survived by, his mother Margaret Thomas, his brother Tommy (Jarard) Thomas (Viki) , his sister Betty Thomas, all of Phoenix, AZ, and his father Jarad Evans Thomas of PA.