In Memory
Mick Meier VIEW PROFILE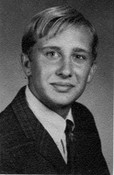 George "Mick' Fenton Meier passed away suddenly at the age of 64, on February 16th, 2012. Mick was a skilled craftsman and a much loved Pastor. He graduated from Camelback High School in 1965. He attended ASU and graduated from Calvary Chapel Bible College. He served with the Air Force during the Vietnam War era. He was an avid fisherman and loved scuba diving in Hawaii.
Mick will be missed by his beloved wife of 34 years, Kathy and his children, Josie, (Tony) Peterson, his son Jamie , grandchildren, Samantha, Brandon, Claire, Chloe and Asher, sisters, Missy (Lloyd) Zeigner and Susan Meier and many nieces and nephews.
Memorial Service will be held at, Calvary Chapel North, 14201 N. 32nd St. PHX, 85032 2/24/12 @ 11:30 am.
Click here to see MICK's last Profile entry.